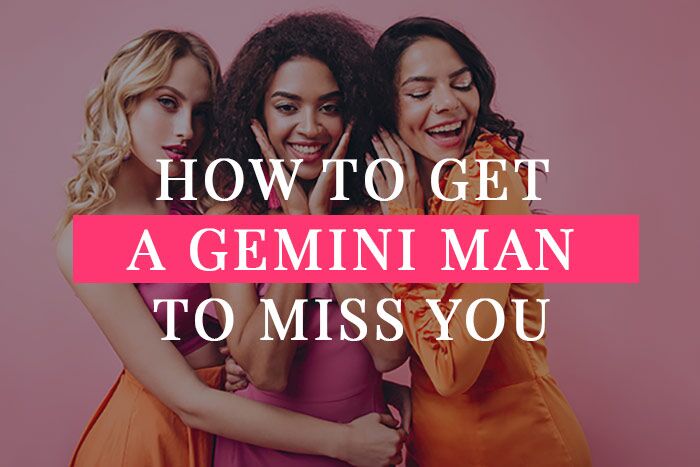 How To Get A Gemini Man To Miss You - 8 Top Tips!
Are you attracted to a Gemini man?
Do you want to take things further with him but don't know how?
Well, all you have to do is make him miss you. Of course, to do that, you need to understand him first.
Those born under the sign of the Gemini have restless minds and restless curiosity. They're always off to the next thing that grabs their attention.
Geminis have the tendency to move on quickly. They don't dwell on what bothers them. Or their feelings. Not for very long, anyway. So, you can expect your Gemini beau to work on other things when you aren't around. And he will.
However, that does not mean he doesn't think of you. The goal is to make him miss you, so you want to be more than just a fleeting thought. For example, I miss your smile, your voice, and your touch so much.
There's no reason why it can't be done. Following these steps will cause him to miss you, but it will also lead to a closer relationship between you two. Through your ability to capture his attention, you'll make sure that he considers how valuable you are to him, how sexy you are, and how thankful he is that you're in his life.
Download Gemini Man Secrets and put that hot Gemini man under your spell. It worked wonders for me!
Here is a complete guide for you to get a Gemini man to miss you. With these tips and tricks, he will surely want to spend time with you.
Also Read: How to drive a Gemini Man crazy
1. Give Him Some Time
If you like a Gemini man, then this can be a difficult thing to do. However, if you want to make a Gemini man miss you, then you will have to give him some space and time. If you are available to him at all times, it will be difficult for him to have any feelings for you.
After all, despite the zodiac sign, all men love the thrill of a chase. Besides that, if you are available to him at all times, then he will feel that he holds the cards to your relationship. To avoid this, you need to be a bit busy so he can have time to miss you.
If your Gemini starts to feel like you're taking away his time, he could very quickly pull away from the relationship. It's got be on his terms that he gives special attention and love–not yours!
Gemini needs to be able to indulge himself and cultivate a personal interest. He really appreciates it when his partner doesn't keep him away from that, so they can work as partners in life rather than just cohabiting one space over another without ever engaging with each other's individual interests or goals outside of the home
Gemini wants someone who will take care of their own emotional health while giving him time for what he loves doing most: cultivating hobbies on his own terms.
Next up: Ways to make a Gemini woman miss you
2. Work On Your Emotional Connection
It is impossible to get any man to miss you unless you have an emotional connection with him. So, this is an area you need to work on with them and make a Gemini guy miss you. It's important that you create a strong bond so that you want him to miss you and longs for you when you are not together.
Of course, creating this connection is not an easy task. You will have to spend some time with him first so he can feel this way about you. The first step is to let the Gemini man talk.
Read next: Easy ways to make a Gemini woman miss you
Help him talk about his feelings but don't stifle him. Give him the space to share what he needs to of his own accord. He will appreciate you giving him the space he needs to share what he can't with most people.
After all, to make a Gemini man miss you, you don't want to make him feel like you are too intense. If you do this, it will push him away. So, strike a balance when building an emotional connection with him.
Gemini Man Secrets – I can't believe how much this guide helped me! I'm not usually one for astrology, but my relationship with the man in my life was really suffering and then someone recommended that we read about Gemini men. Now things are going better than ever before! – Mandy
3. Be Spontaneous And Fun
There is nothing more a Gemini guy loves more than an adventurous woman. They have a free spirit, and they want their partner to have such a spirit too. After all, they do want to have fun. However, you don't have to come across as too overzealous.
Instead, be positive around him and come up with fun ideas to spend time together. The Gemini man loves change and he will appreciate you doing this for him. Such fun memories will make him miss you when you are not around.
Doing this will allow him to feel like he can reach out to you whenever he wants to do something fun. This way, you will be his go-to person for when he wants to have some adventure. Giving Gemini's such freedom in a friendship or relationship allows them to be close to you.
4. Be His Friend
Sometimes we get so occupied in making someone like or miss us that we forget to be their friend. Don't forget to be a friend to your Gemini man because that is what they need the most from their partner. If you want to make him fall deep for you, then you need to have a great time together as friends too.
Just be a friend to him by talking to him and being there for him whenever he needs you. Watch some movies, play some board games, and hang out with other people so he doesn't feel your presence is overbearing. It is one of the best things you can do to get a Gemini man to miss you.
Doing this will also allow him to reach out to you whenever he needs to talk to someone. After all, all we need sometimes is someone to listen to what we have to say. Be that space for him and see how easily the Gemini guy emotionally connects with you.
The Bottom Line Getting a Gemini man to miss you is all about finding out what his main hobbies are and what his values are.
5. Create Some Mystery
The most important thing that you can do to get a Gemini man to miss you is by being an open book is not the path you want to go down when dealing with a Gemini man. After all, you want to make him curious so he can be interested in you. This zodiac sign loves unraveling a mystery.
When a woman is mysterious to him, he will work harder to solve that mystery so he can figure her out. Such an aura of mysteriousness will allow him to miss you when you are not around. He will keep on wondering what you are doing when you are not with him.
However, don't go to the extreme and completely shut him out. You want him to know you but always leave a little mystery so he can keep on wanting more. Doing this will attract him more towards you and he will fall for you in no time.
6. Leave Reminders Of Yourself
If you get together with your Gemini man once in a while, then leave reminders of yourself so he can think about you when you are not there. The best way to do this is through your scent. Gemini's love a good scent and every time it is near them, they will automatically think about you.
If you want a Gemini man to miss you, leave reminders of yourself. When he is not around, you can leave some of your scents on his pillow or other objects that he uses the most. When he goes near that object, he will smell your perfume and automatically think of you. However, don't go overboard with this.
Only spray your perfume where you interacted with him and not anywhere else. Otherwise, he will think you did it on purpose and he will figure out your motive. Gemini men are incredibly smart so it is best not to fool them like this.
Instead, you need to be subtle in your approach so he can miss you without thinking you are overbearing. The trick is to strike the right balance with this man.
7. Do Fun Things Without Him
Nothing makes a Gemini man want a woman more than when he sees her doing fun things without him. If you are only dependent on him for having fun then he will easily get bored with you. You need to show him that you don't need him to be adventurous and spontaneous.
That is why you should always give time to yourself and your friends. Have a girl's night and post pictures on social media so he can see you are doing fine without him. This will let him know you are not clingy and you don't need him. By spending some time apart in a relationship is important and going to spend time with your friends and family will make you both miss each other.
Once he sees this, he will try harder to spend time with you so he can have a good time with you. After all, this zodiac sign loves it when their partner can be independent yet still love them. They hate it when their partner is clingy and wants attention at all times.
8. Send Him A Thoughtful Gift
You might be surprised to learn that Gemini men actually appreciate thoughtful gestures. They are known for being very emotional and flighty, so it's nice when someone takes the time out of their busy day-to-day life just because they feel like doing something special!
While it is okay to have your own fun and independence, you still need to make your Gemini man think you like him once in a while. The best way to do this is by sending him a thoughtful gift once in a while. They love it when people think about them and go out of their way to make them feel appreciated.
That is because Gemini men love women that are driven and go after what they want. Doing this will make you look assertive and he will love this about you. Of course, you should not do this too often because that will defeat the purpose.
Instead, every month or so you can send him a reminder of yourself by sending a thoughtful gift. It doesn't have to be something big. All you need to do is send him something that will make him miss you and think about you.
Even a small handwritten card or note goes a long way. So, don't be afraid to think out of the box to make your Gemini man miss you. Only do this once you have established an emotional connection with him.
If you start doing this too soon, the Gemini man might feel stifled and run away from you. That is why timing is the most important thing when it comes to this. Once you have figured it out, the Gemini man will miss you more than anything.
Final Words
These are the top eight things you need to do to make a Gemini man miss you. The most important thing in all these methods is to strike a balance. If you show too much affection or distance, it will drive him away.
Instead, do a bit of both to make him fall for you and miss you when you are not around. Be consistent with these tips and soon your Gemini guy will fall for you. He will miss you and he will want to spend time with you.
Gemini Man Secrets is an interesting book, it helped me improve my relationships.
The zodiac-based guide has great techniques for understanding how men and women think differently, which will help you create a better relationship!
Think of My Zodiac Lover like a curated collection of articles rather than a blog. You may have noticed I don't allow any ads or other distracting content on my website.
My Zodiac Lover is supported by our readers, if you buy something I recommend, I sometimes get an affiliate commission – but this doesn't affect the price you pay nor the items I suggest.
Find out more about me
Be a part of My Zodiac Lover