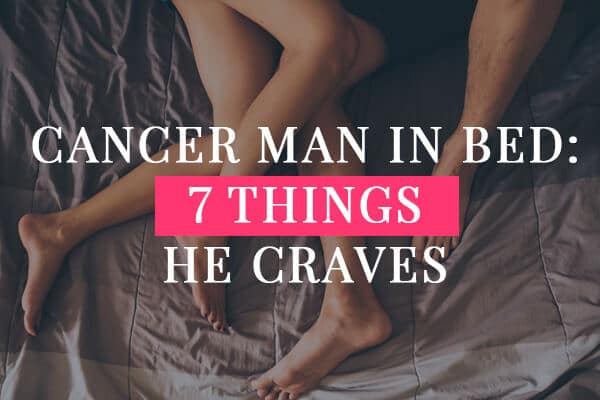 Cancer man in bed - 7 ways to turn him on
Are you dating a cancer man?
Do you want to know all the ways you can turn him on for better sex life?
Well, you are in the right place.
Cancerian lovers are known to be the most attentive, faithful and sensual lovers of all the Zodiac Signs.
But like most men, the Cancerian man doesn't like to talk about what he's feeling or what he needs, but you've come to the right place.
I'm here to explain exactly how to turn a Cancer guy on.
Keep reading for my rundown on the best ways to turn a Cancer man on. You can also read Cancer Man Secrets for more in-depth astrological love advice. You'll have your Cancer man all over you in no time at all.
This is your complete guide to successfully turning on a Cancer man in bed and satisfying his needs.
However, first, you need to understand the personality of a Cancer man.
Nature Of A Cancer Man
The best trait of a Cancer guy is their loyalty. When they like you they will be extremely loyal and honest with you. So, if you are dating one you can be at ease. Cancer guys are considered the most loyal of all Zodiac Signs, they will never hurt you or cheat on you.
Apart from that, Cancer men are also more towards the sensitive side. This is why when you meet them at first you may think that they are shy. Men born under the Cancer Zodiac Sign are certainly mysterious and some can also be introverted.
So, it may take some time for them to open up to you completely. However, when they open up emotionally they will be completely loyal and honest to you.
Because of this sensitive and shy nature, they also like it when their partner is the leader of their romantic relationship. So be prepared to take the lead and be the driving force of your relationship. Another thing to remember, is be aware of the Cancer man's mood swings from time to time.
Also Read: How to know if a Cancer man loves you
Tips To Turn A Cancer Man On In Bed
So let's dive into what the Cancer man likes when it comes to the bedroom. Here are the top seven tips that will turn any cancer guy on in bed with success:
Let Him Lead
While they would like you to lead in the relationship, this is not applicable in the sheets, he needs to feel in control. So make sure to let him lead when you're making love. When you are in bed you must not be too dominant or it will turn him off.
Instead, try being submissive in bed and they will be turned on in no time. You can also pamper him beforehand by giving him a massage or relaxing in the tub before you go to the bedroom.
This will turn them on even more. However, during all this just make sure that they are leading and not you or they will not be turned on.
Related Reading: 6 Ways to tell if a Cancer man likes you
Be Affectionate
One thing to know about Cancer men is that they are protective of their emotions. This is why sometimes they may feel insecure. If you want to turn him on then you should make them feel comfortable and cared for in bed so they can feel secure. He craves emotional connection.
Be affectionate and smother him with cuddling or kisses but be genuine with it. Their sensitive nature makes them extremely intuitive to when someone is acting fake or false.
So, be affectionate but keep it real or they will doubt your intentions and you don't want that.
He Loves Romance
One thing's for sure, Cancer men are suckers for romance. When you are dating a Cancer man, one thing to know if he likes to do the most romantic things for you to make you feel loved and special.
This will extend to the bed too as he may ask you questions to get to know you more. So he can be romantic in many ways with you. If you want to turn him on then you should be romantic with him too.
Related Reading: Gemini man in bed
Take a romantic bath with him before or after you are done in the bedroom to make him feel special. Apart from that, you can just light candles, put on some music, and create a romantic atmosphere for him in the bedroom.
Dirty Talk
One thing to know is, Cancer men are naturally drawn to words. So, it is important to him that you turn him on with your words as well. You can do this by engaging in dirty talk with him in the sheets.
Now, many people don't like doing this because they don't know what to say and they get confused or find it awkward. However, many resources on the Internet can help you enhance your dirty talk.
If you are one of those people then find those resources and work on your dirty talk skills to turn on your Cancer man. Once you start talking dirty with him, you'll soon notice you'll be making him lose his mind. He will love it and be even more romantic towards you.
Read next: How to Please a Cancer Woman in Bed
Go Wild
A Cancer man, in the beginning, will be shy and introverted. However, when he knows you and gets close to you he will open up to you like never before.
However, he will expect the same from you so don't be afraid to go wild with him whenever you both are alone. You can take the lead first to get him excited and then even do a striptease for him.
Related Reading: 7 tips to get a Leo man into bed
This will send him over the moon and turn him on like crazy. You can then enjoy being wild with each other.
Sensual Touch
Always be intimate before you move on to doing other things. They love being cared for and require intimacy from their partner. You can build this intimacy through the use of sensual touch.
Just touch him sensually anywhere or give him a nice massage beforehand. Light some candles, put on some slow music, grab some essential oils, and start massaging him by caressing every area of his body.
They crave body to body intimacy, to really feel that emotional and physical connection. Which is why if you really want continue making your Cancer guy lose is mind, I'd recommend opting for sex in the shower or bathtub.
This will make him go wild for you and you will enjoy a great time in bed together.
Dress Sexy
They love it when their partner does things for them. This is because they invest a lot of love too and they expect the same from their partner. So, before you start getting hot in bed you can dress sexy for him.
Put on the sexiest lingerie you have and make him feel turned on by walking around in it. You can also do a little striptease in those sexy clothes to turn him on even further. He will go crazy for you after this.
Final Words
Once you do all of these things you will turn the cancer man on in no time. They will be wild for you and they will fall for you even more. They love a woman who is a lady in the streets and a freak in the sheets.
So be prepared to explore your wild side with your Cancer man.
For more astrology-related advice, check out Cancer Man Secrets today! After reading it I saw immediate success in my love life, and I know you'll have that dreamy Cancer man chasing you.
Think of My Zodiac Lover like a curated collection of articles rather than a blog. You may have noticed I don't allow any ads or other distracting content on my website.
My Zodiac Lover is supported by our readers, if you buy something we recommend, we sometimes get an affiliate commission – but this doesn't affect the price you pay nor the items we suggest.
Be a part of My Zodiac Lover