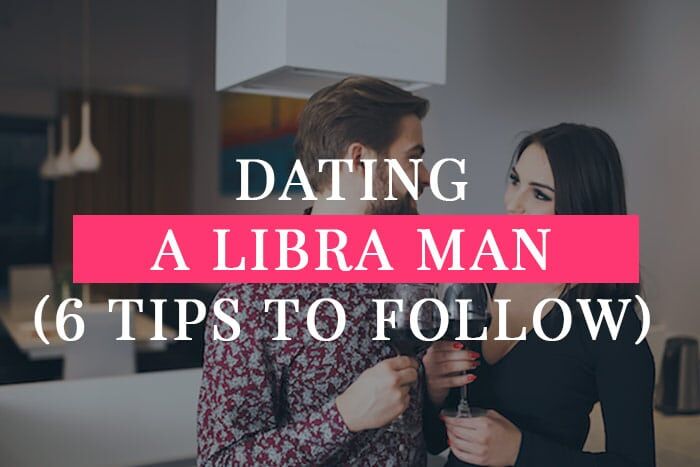 Dating a Libra Man (6 Top Tips To follow)
Libra men are definitely the most attractive. When you meet a Libra man, the first thing you will notice is their charm, intelligence, and sexy attitude that could attract anybody. If you really want to date this zodiac sign, then you need to find everything that is similar between the two of you and use that to your advantage.
You will also find out how to understand him dating and what he seeks in a woman once you download Libra Man Secrets so that you can start a relationship on the right foot.
Libra men always seem to be worried about what the people around them think or feel. Even when they are committed, a libra man is always searching for ways to have a balanced and healthy relationship. While it may not be easy to date a libra man, I assure you that it will be rewarding.
Before moving on to the best tips to date a libra man, here are a few basic facts:
Libra men are born between September 23 and October 22

Most common personality traits include charming charisma, intelligence, sensitivity, flirtatious, and romantic.

Libra men are more interested in long-term relationships than flings.

Libra men are most compatible with Leo and Aries women.
The First Date with a Libra Man
With libra men, first impressions tend to go a very long way. If you want to impress a libra man, then the best way to do it is by attracting him towards you on the very first date. A majority of libra men tend to be entertaining, intelligent, and have large social circles. If you want to be more than a friend to a Libra, then here are a few tips that you can consider.
Want to see how compatible you and your Libra crush are? Try our Zodiac Love Calculator
When planning the first date, consider taking a Libra man somewhere that stimulates his visual sense. Aesthetics are fairly important to Libra men, and they love going to places that are visually appealing. Instead of a sporting event or a place that requires physical activity, plan your first date thoughtfully by considering current trends.
Even if you do not get to choose where you go on the first date with a Libra man, you can always appeal to his visual sense with your own clothes.
For Libra men, clothes are a way to express oneself and they tend to be attracted to people who can dress in an elegant yet bold way. If you are looking for ideas, then maybe a typical black dress with some sexy red high heels would do the trick. If you are not one for high heels, then you can still make an impressive statement with your accessories such as golden earrings or mid-finger rings.
RELATABLE READING: How To Get A Libra Man To Commit
On the first date, remember to be your most authentic self. Since a Libra man has a charming personality, he is more likely to be attracted to a pleasant and confident individual.
If you are fun and spontaneous, then don't be afraid to let that side out. While Libra men love peace and harmony, they also want their dates to be unpredictable and exciting.
If you are looking for ways to communicate with a Libra man, then the best tip to follow is to simply speak your mind. Libra men love to engage in meaningful conversations and are often attracted to people who speak about their interests passionately.
Discover more top tips on how to know if a Libra man likes you by downloading Anna Kovach's Libra Man Secrets guide.
Does a Libra Man Like Me?
After you have gone on a few dates with a Libra man, you may find yourself guessing whether or not he is actually into you. Instead of directly vocalizing their feelings for you, a Libra man is likely to become overly flirtatious if they are interested in someone. If he knows what your interests are, then he will likely to go above and beyond to keep you entertained and invested in him.
One of the most charming personality traits of the Libra man is the way he flirts. Libra men tend to be exceptionally good with their words, and they always know how to make someone blush with their apparent and harmless flirting.
However, flirting comes natural to Libra men. There may be instances where you find the Libra man flirting with other people too, simply out of habit. Remember that Libra men love being appreciated by others, and the easiest way to charm anybody is through some harmless flirting.
ALSO READ: What does a Libra Man like in a Woman
Expectations in a Relationship
Once you start dating a Libra man, you still have to get yourself noticed by him. Since Libra's are people pleasers, you will always find him surrounded by his friends or socializing with new people.
To get his attention, all you need to do is remain interesting and beautiful. Don't appeal to his eyes only but stimulate his brain with conversations that keep him thinking about you for hours.
When Libra men get into relationships, they expect the same kind of balance and harmony that they bring to every social situation. Instead of getting too excited around him, remember to keep your calm and remain neutral.
The one bad habit that is common amongst Libra men is their indecisiveness. Instead of panicking or getting angry if your man is taking too long to decide, just give him some space and assist him in the decision. If the Libra man knows that you will stand beside him for support, he is likely to fall in love with you easily.
Next: Ways to tell your Libra guy is playing with you
When Libra men commit to a relationship, they are likely thinking of the long-term. Once a Libra man is attracted to you, you will find him planning a future with you soon enough.
Throughout the relationship, though, it is important to maintain a healthy intellectual, emotional, and physical connection.
Getting in Bed with a Libra Man
If you are dating a masculine Libra man, you will fall for his charms soon enough. Libra men love to be reassured that they are good in bed. Even though the Libra man knows about his sex appeal, he still needs some words of appreciation to keep things interesting.
Next: How to know if a Libra guy is done with you
When it comes to sex, the Libra man communicates both through the mind and the body. This zodiac sign is known to evaluate everything with their mind before feeling with their body.
If you really want a good sex life in this relationship, then you need to find a balance between the things that both you and your partner enjoy.
Do Libra Men Cheat?
Once a Libra commits to a relationship, you will never have to question his loyalty towards to you. While you may find him flirting with other people, remember that is just part of his charming personality traits and certainly does not mean anything.
If a Libra man falls in love with you, he will prove to be a dedicated and loyal partner.
Next: How exactly does a Libra guy act when he's hurt
If you think that a Libra man has been cheating on you, then it may be time to step back from the relationship. Since Libra's are loyal people, it is likely that he is uninterested in you if you find him cheating or betraying your trust.
The reason why Libra men are loyal in relationships is because they dislike the idea of ending relationships. Although they may be reluctant to commit to a relationship in the first place, they do not like letting go of their partners after they have gotten into the relationship. This does not mean that he is obsessed with you, but simply that Libra men love too deeply.
ALSO READ: How to Please a Libra man Sexually (7 steamy tips)
Communication is Key
When dating a Libra man, always know that you can talk about anything and everything. Keeping secrets and displaying dishonesty is a deal-breaker for Libra men.
Next: Obvious signs a Libra guy isn't into you
Even if you had a fling with somebody whilst you were dating a Libra man, the best thing to do is to let him know honestly. He will appreciate that he found out from you directly instead of from somebody else. If he genuinely loves you, he might even forgive you and try to let go of the matter.
While clear communication is important to date a Libra man, he does not always appreciate criticism. Libra men always want to be appreciated and liked by other people. Since they are intelligent and witty people, taking criticism is certainly not on their list of good traits.
Next: What to do when a Libra man ignores you
However, just because a Libra man does not handle criticism too well, that does not mean that you can never disagree with him.
When you do have disagreements with a Libra man, remember to remain sensitive of his ego and try not to say anything that could hurt him. You can take a more diplomatic approach rather than adapting to direct criticism.
Is it hard to date a Libra man?
When it comes to dating a Libra man, extroverts will have the upper hand. These men are sociable and enjoy socializing. They've always got something booked in their calendar, so be prepared to have your plans moved around. A true challenge for those who prefer more intimate dates where there's less noise from outside sources disrupting your date night.
Next: How can you please a Libra man
How does a Libra man act when he's in love?
When a Libra man falls in love, he becomes intensely loyal and willing to do anything for his partner. He might be the one who offers coffee on short notice or meets you at an odd hour. The Libra man is a romantic at heart and will do anything for his true love.
Final Words
While you may think that a Libra man is very masculine, he is probably extremely sensitive on the inside. In relationships, Libra men can prove to be incredibly supportive through their great listening skills.
You can always talk to a Libra man about your problems or goals in life, because he appreciates being vulnerable when he gets close to his partner.
Dating a Libra man is quite easy, especially since you will never find him losing his temper. Even in the most serious situation, your Libra man is likely to keep his calm and cool.
The best part about dating a Libra man is always being showered with affection. From hand holding and calming words to frequent kisses and long hugs, you will have it all in your relationship with a Libra man.
Anna Kovach's Libra Man Secrets has been such a helpful guide for me! I loved reading her insights on dating and relationships with the zodiac sign of Libra.

If you're looking to find out more about this unique personality type, then definitely check it out-Anna does an amazing job sharing all those little things we might not think twice about but can affect our love lives greatly in unexpected ways.
Think of My Zodiac Lover like a curated collection of articles rather than a blog. You may have noticed I don't allow any ads or other distracting content on my website.
My Zodiac Lover is supported by our readers, if you buy something I recommend, I sometimes get an affiliate commission – but this doesn't affect the price you pay nor the items I suggest.
Find out more about me
Be a part of My Zodiac Lover