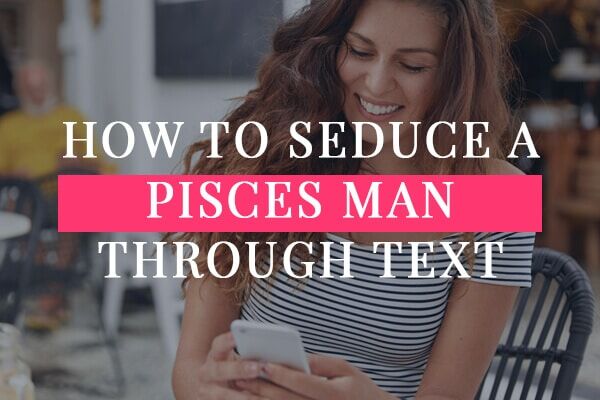 How to Seduce a Pisces Man through Text
Falling head over heels for a charming Piscean guy? I don't blame you. Pisceans can be some of the best lovers. Emotional, artistic, and romantic, Pisces men are literally a dream come true—but only if you know how to woo them. One of the best ways to do this is through text messaging, where you can use your creativity and personality to win them over.
In order to do this, you'll need to know the proper way to communicate with a Pisces man. Don't worry—it's easier than you may think. In this guide, I'll tell you exactly what to do to win over the heart of a Pisces.
Anna Kovach's tips on texting a Pisces man are sure to work, and the best part is that they don't require you give up who you are. You can try these out for yourself by checking out Anna's book "Pisces Man Secrets".
5 tips on how to attract a Pisces man through texting
Let's jump right in!
1. Be Creative
Really want to steal his heart? Here's what I recommend: be creative. As Pisces is the most creative of all Zodiac signs, there's no doubt your crush will appreciate your innovation. Simple, routine text messages may bore him, so make sure to mix it up every now and then (you can be sure he will for you).
For example, you may send him a witty goodnight message that will have him thinking about you just before bedtime. You may also consider texting him cute or funny images that you come across to keep the relationship fun and creative (just make sure not to overdo it). You can gain a lot of ground by feeding his natural creativity—so be sure to keep this in mind.
2. Take It Slowly
Pisces is one of the feminine Zodiac signs. This means that that Piscean guy you love is more in tune with his feminine side. Understanding this, you'll want to take things slowly. Unlike other guys, Piscean men aren't about hookups or casual relationships. They are looking instead for something stable and long-term. This can make them excellent and committed lovers, but it also means you should be careful when texting them.
Slow and steady wins the race with Pisces men. As such, adopt a mellow, go-with-the-flow attitude, and don't try to pressure him into dates, events, or other activities (you know what I mean). You don't want your texts to be a burden to him. Instead, I recommend doing things the old-fashioned way and only taking the next step forward in your relationship when you are ready.
Anna Kovach gives some good tips on how to seduce a Pisces through texting in her book Pisces Man Secrets.
3. Talk about Him
Pro tip: in order to seduce a Pisces man, you'll want to make the conversation about him. While this is good in any relationship, it's definitely good for a Pisces. Piscean men are full of dreams (many of them off-the-wall), and they can sit and talk about them all day. By indulging in a conversation about his wants, dreams, or plans, you can get to know him better though texts and show him you care. It only helps that Pisces men are natural and caring romantics—there's a good chance that he will be moved by your interest in him and start to take on feelings for you, as well.
Still, this doesn't mean that you should pressure him for information. Remember what I said above: let your conversations flow naturally. If you expect too much of him upfront, he will simply gravitate to the next venture.
Read next: How to Make a Pisces Man Miss You
4. Keep It Clean
I also suggest keeping your texts clean. A bit of provocative flirting may be fine after the two of you are dating, but you should never bombard him with risqué texts or photos during the courting stage. Here's why: Pisces men simply aren't interested in easy pickings. They are looking instead for viable candidates for long-term relationships. You can end the relationship before it even begins by putting yourself out there too quickly.
As such, make sure you are keeping your text messages clean. Remember that with a Pisces, you are trying to win over his heart and not his body. This may seem unconventional, but it can actually play to your strengths. The upside is that you get to grow your relationship through meaningful conversation that grows a stronger bond between the two of you.
5. Stay Positive
Pisces men are dreamers—which is to say they always have their heads in the clouds. This means you won't get too far being negative around them. A Pisces is always devising new hopes and dreams and doesn't have much time for negative energy. As such, you want to bring a positive vibe to your messages if you expect to land one.
This doesn't mean that you can't ever talk about serious topics. Of course, you can. What it does mean is that you should stay chiefly focused on the good stuff. I recommend talking about the future and what you see happening that could benefit the two of you. Make sure to encourage him in his plans and be sure to give him support in hard times. A Pisces man wants to be fulfilled emotionally—so make sure you are giving him that fulfillment whenever possible.
Piscean men also have great memories, so it may be hard to make up any lost ground should you say the wrong thing. If you bombard him with negativity, there's a good chance it will taint his image of you long-term. This is particularly true if you say something spiteful. Above all else, Pisces men dislike anger and conflict, so be sure to avoid creating such an environment.
The Bottom Line
Seducing a Pisces man through texts can be great fun, but it requires a ton of patience. Hopeless romantics and starry-eyed dreamers, these men are looking for partners who can satisfy their needs long-term. Winning them over can be tricky if you don't have the right toolset.
That's why I encourage you to follow the advice in this piece, and also download Pisces Man Secrets. With these guidelines, you'll be able to understand what motivates a Piscean guy and what you can do to steal his heart. Make sure to use this as your go-to reference for starting your next relationship with a Pisces!
Think of My Zodiac Lover like a curated collection of articles rather than a blog. You may have noticed I don't allow any ads or other distracting content on my website.
My Zodiac Lover is supported by our readers, if you buy something we recommend, we sometimes get an affiliate commission – but this doesn't affect the price you pay nor the items we suggest.
Be a part of My Zodiac Lover