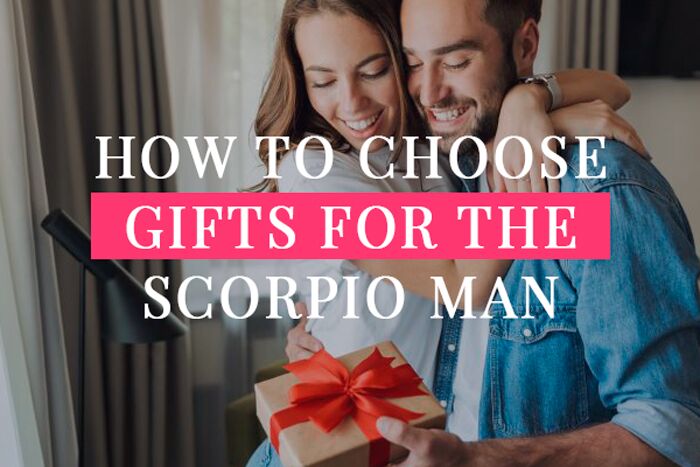 How to Choose Gifts for the Scorpio Man - ( 5 of The Best Gifts)
Do you have a Scorpio guy that is hard to shop for?
Don't worry, I've got you covered. I've curated a list of Scorpio-themed gift ideas that will make sure your Scorpio man feels special and appreciated. Whether they are into astrology or not, they are sure to love our unique gift ideas.
Shopping for a Scorpio man can be tricky, but with my help you can find the perfect present he will love. This list has something for everyone, so take a look and find the perfect gift today!
Keep reading to find out the top gift ideas for a Scorpio man!
If you have a Scorpio man in your life, I must congratulate you on your taste. Love them or hate them, Scorpios are passionate, highly emotional, and very generous. They love deeply and care about their friends and family fiercely.
His birthday might be around the corner, and you don't know how to choose gifts for a Scorpio man. That can be nerve-wracking because I am sure you want to make him feel special.
Don't fret! This is why I am here. I'll teach you everything you need to know before choosing a gift he will cherish forever.
What Are the Best Gifts for a Scorpio Man?
To find the perfect gift idea for a Scorpio man, you'll have to look at what makes this sign tick. There are plenty of Scorpio attributes to consider when choosing a gift, but I'll let the more obvious ones out for this article. Psst, it's sex toys. I am talking about sex toys.
Scorpios are very emotional and sensitive.
This is not news. Scorpios are the biggest crybabies of the Zodiac, and that's because they feel things very, very, very deeply. Were three "very"s necessary in this situation? Yes, they were. It's very easy to get on a Scorpio's bad side, and he will usually throw a fit when his feelings are hurt.
It's vital for them to take hold of those emotions, so they need a healthy outlet for them. Meditation, journaling, and lots of introspection are the keys for him to mature on an emotional level.
So, to help him out, you can buy him a meditation pillow or a subscription to a meditation app. Maybe Tibetan sound bowls, aromatherapy tools, or self-care kits. A journal is a great way for him to explore his inner demons away from you. And if all else fails, you could buy him a therapy session. God knows he probably needs it.
Scorpios love fine, elegant things.
There will never be a time when a Scorpio man won't appreciate an expensive item. This rings true for most of us, but Scorpios have heightened senses. They love sensual touches, soft materials, jewelry, and everything that screams, "I am rich and powerful."
Of course, you don't have to break the bank when shopping for a gift. A fiery red, satin pillowcase will do the trick. You could also look into ties, quality shirts, and suit accessories for when he wants to feel extra fancy.
Delicate jewelry is usually appreciated by the Scorpio man, and you will get extra points if you engrave it with a special, romantic message. Other ideas are fine cigars (if he smokes), a nice bottle of red wine, or a dark, mysterious perfume.
Scorpios are very sociable and outgoing.
If you've ever picked on a Scorpio man's friends, you saw how fiercely he protects them. Scorpios are very outgoing and friendly, despite being a bit shy when you first meet them. They love spending time with their loved ones and going on adventures, so you can capitalize on that.
Buy him concert tickets, hiking equipment, or a bike rental gift card. Alternatively, you could look into board games, playing cards, tennis rackets, and other items he can use with his buddies. It's important for him to know you like and accept his friends.
This is why you'll certainly get to his heart by including something for his mates in your next present. But hey, sometimes you don't like his friends. It happens. In this case, you could buy him a ticket to a public speaking workshop or a theatre class. But only if you could make do with him being better at lying than he already is.
Scorpios are hopeless romantics.
These big softies can be turned into mush with a carefully considered gift. They want nothing more than a loyal partner with whom they can share the fairytale romance they dream about. A great way to make him feel special is by exposing your own romantic side.
Write him a poem or a love letter, or put together a scrapbook with pictures of you two. Plan a romantic date, or cook a delicious meal for him. Take him back to the place you've met or where you had your first date. If you've ever seen a romantic comedy, that's what you're aiming for. Only a few times bigger and cornier. Go wild with it, propose to him. He'll eat it right up.
Scorpios are actual wizards.
Many people forget how in tune Scorpios are with the darker realms. They are ruled by Pluto, the king of the Underworld. Thus, they are exceptionally gifted when it comes to the occult. Some can even have hidden psychic powers. But maybe don't ask him anything about your dead relatives.
For a unique, quirky gift, you could buy – or make- a wand. Nice home decor with an esoteric twist is also great. Aim for mysterious antiques, pagan statues, or amulets. Find a book on herbal remedies and buy some potted herbs for him to tend to. If you're on TikTok, this is where you'd usually hear "give him a vial of your blood."
He would absolutely love that, but it's probably a bad idea—health before crazy gift ideas.
Top 5 Gifts for a Scorpio Man
If you are looking for a gift for a Scorpio friend, there are many options to choose from. Some popular gift ideas include items related to the person's favorite hobby or something that celebrates their unique personality. You could also give them a tarot deck if they enjoy astrology, or some LED lights if they like to relax at home. No matter what you choose, make sure it is something that the Scorpio will appreciate and use.
If the ideas above did not spark your imagination, I am making myself useful again. I know how stressful it can be shopping for a perfect gift, so I've linked a couple of great choices below. I can assure you he will like any of the gifts I've included, so you can just choose one at random. This gives you more time to shop for lingerie because you will need it on his special day.
You don't have to thank me. You are involved with a Scorpio man; I know how hard that can be.
1.
Red Fleece Hoodie
Let him show all of that fiery passion through apparel. A fleece hoodie is a great option for a Scorpio man because they love comfort and warmth. Plus, you've probably already stolen all of his. These natives love deep red hues, and they also look amazing in them.
The scarlet reds contrast their pale skin and dark eyes and hair. Plus, red is the color of passion, and we both know your Scorpio man has plenty of that. You will make his day if you embroider a tiny heart on the sleeve, so you should start looking for some sewing tutorials.
For the final touch, spray your usual perfume on the collar and write a heartfelt note. "I want you to feel as comfortable as I feel in your arms." Or something sappy like that.
2.
Ouija Board
If you're still curious about your dead relatives, this gift is the perfect one. It will appeal to his darker side and spark his curiosity for the spiritual world. Scorpio men love anything relating to other realms, and he will have a lot of fun playing with this board.
You can both use it on an indoor date and get creative with it. Maybe ask the spirits some steamy questions? Even if you don't, your man will probably find a way to turn it sexual in a few seconds. And if you want to take the lead, nothing simpler. Just tell him how scared you are and cuddle in his big, strong, protective arms.
3.
Meditation Journal
For his hectic feelings, a journal is just what the doctor ordered. This astrology journal is absolutely gorgeous, with a golden design that contrasts the black covers. He can use it to figure himself out, explore his emotions and fears, or just write love letters into the abyss.
Or he could write down his spells? A list of moments when he got way angrier than he should have? The choice is his. If you get him this journal, write a sweet little note on the first page, or include a hand-written love letter between its pages.
Next up: Signs that your Scorpio guys has feelings for you
4.
Bathtub Pillow
Water signs need a lot of contact with their element to replenish their energy. This is why it's important for a Scorpio man to unwind with a relaxing, sensual bubble bath once in a while. You can help make his bathtub more inviting with a comfortable pillow.
He will appreciate that you want him to take care of himself and will think of you every time he draws a bath. Besides, the bathtub can be quite uncomfortable for two people. A pillow will give him that extra support he needs when he's admiring your naked suit.
5.
Poker Set
The last thing you want is your Scorpio man with a gambling addiction. Luckily, he can use a poker set with his friends without betting any money. Poker is a great, classy game that men enjoy. And Scorpio men are usually great at it because they can hold a poker face like no other.
Next up: Choosing a gift for a Pisces man
Plus, he will really like that you're giving him an opportunity to spend some more time with his buddies. You can catch them acting silly over the poker table and get a casino girl uniform for yourself.
Later on, you can make love on top of all the fake money he won. Hot!
How Can I Surprise My Scorpio Man?
If you're looking to surprise your Scorpio man, good luck with that. They are the most suspicious sign of them all, and they hate when people keep secrets from them. If he suspects you're up to something, this dark magician will quickly put together a ninja outfit and follow you around.
He will learn to program just so he can code a location tracking app. He will hire a private investigator as a sidekick. Keeping secrets from a Scorpio man is almost impossible, and that's partly due to their superior intuition.
Yet, if you're up for a game of cat and mouse, there are still some things you can do to surprise him. But maybe you should go to a spy school, first.
1. Throw him a party.
This is an obvious idea, but it's very effective when it comes to a Scorpio man. He will be moved to tears by all your effort, and he will love spending time with all his friends. He will also appreciate how skilled you were at hiding everything from him.
2. Let him know how well you listen to him.
Whenever he tells you something about himself, make a mental note of it. Or even better, write it down in your notes app. This will ensure you always have a list of gift ideas he will love without stressing too much about it. When you suddenly present him a thing he said he wanted four months ago, his knees will go weak. Trust me on this.
3. Ask his family.
When in doubt, always ask his mother. Or his sister. His family will appreciate the lengths you'll go to make him happy. Besides, they can give you some very valuable information on what your Scorpio man likes or dislikes. Nevertheless, you should account for his privacy. Scorpios like to keep to themselves, so only contact his family if he already introduced you.
What Do Scorpios like for Their Birthday?
No matter how intense your Scorpio man might be, he is a big baby inside. All he wants for his birthday is to feel loved and cared for. He will love spending time with his friends and family on his special day. Yet, the thing he wants most is his devoted lover!
You can give him the best birthday of his life if you explore your romantic side. Planning a nice, romantic date will get him in the mood for love. As if that was ever a problem.
Finish the day off with a sensual surprise. Wear nice lingerie, eat some chocolate-covered strawberries, pop some champagne. It may sound corny, but this is what your man wants. You chose him.
Final Words
There are many different gift ideas for people of all different zodiac signs. If you are looking for a gift for someone who is a Scorpio, some good options include their favorite things, such as drinks, books, or clothes. You could also give them something related to their astrological sign, such as a piece of jewelry or a shirt with the Scorpio symbol on it. Whatever you choose, make sure it is something special that the recipient will appreciate and enjoy.
To be honest, a Scorpio man does not need much to be happy. As long as you can make him feel loved with the passion he dreams about, you'll be golden. A romantic night with you is everything he wants. All else is just a bonus.
Think of My Zodiac Lover like a curated collection of articles rather than a blog. You may have noticed I don't allow any ads or other distracting content on my website.
My Zodiac Lover is supported by our readers, if you buy something I recommend, I sometimes get an affiliate commission – but this doesn't affect the price you pay nor the items I suggest.
Find out more about me
Be a part of My Zodiac Lover