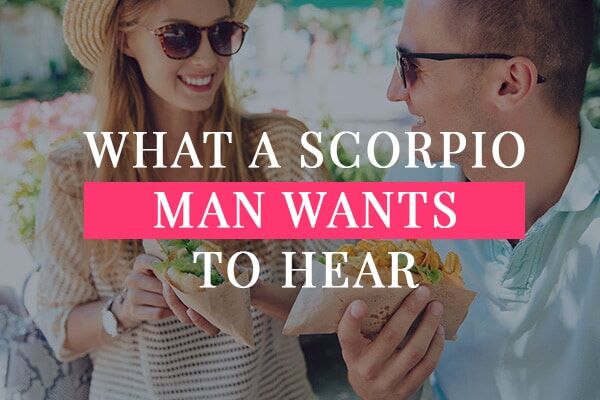 What a Scorpio Man Wants to Hear (TOP 5 COMPLIMENTS)
Looking to win over that attractive Scorpio man in your social circle? It'll help if you know the right things to say. Scorpio men can be won over by simple sweet talk, so loading up your arsenal of effective compliments could be crucial to wooing your crush.
In this guide, I'll go over exactly what it is that Scorpio men want to hear from their lovers, as well as cover some specific personality traits that these men like in their women. Keep reading to find out how to flirt with that sexy Scorpio stud!
If you're looking for even more suggestions on what your Scorpio man wants to hear, make sure to check out the bible of Scorpio compliments in Scorpio Man Secrets.
What Scorpio Men Like
Your chances of getting with that Scorpio man increase exponentially if you understand what he wants. In this section, I'll talk about some of the things a Scorpio man wants in his partner:
A Scorpio isn't just another guy. What I mean by this is that he's actually looking for deeper connections. While men of other Zodiac signs are frequently after passions of the moment, Scorpio men are known for pursuing long-term relationships with more meaning. Let him know that you are looking for the same thing, and you become a much more viable relationship candidate in his mind.
Scorpio men also like independent women. For this reason, you'll need to show him that you are a woman who can stand on her own two feet and who has her own thoughts and opinions. Tease him with stories of your adventures (or misadventures) while also giving him room to talk about what he wants.
What Scorpio Men Want to Hear
Given this, let's take a look at some of the best compliments you can give Scorpio men:
"You are so handsome"
Here's something you may not know: Scorpio men work hard on their appearance. Though they are natural introverts, they care about what others think of them. That's why there's hardly anything you can say that he would love to hear more than "You are so handsome." Make your man feel special by telling him you see the value in his appearance. This will help his confidence and make him closer to you as a result.
You'll learn how imperative this is, in Scorpio Man Secrets.
Even if you're already in a relationship, letting your Scorpio partner know he's good looking is an important tool for keeping your relationship fresh and steamy. For this reason, get him to smiling by telling him just how great he looks!
"I've never met a guy like you"
A Scorpio man is a natural introvert, and like others of this kind, he worries a lot and loves to overthink. Therefore, tell him something he would like to hear: "I've never met a guy like you." Let him know that he is in an exclusive class belonging just to himself—in your eyes, anyway. You can bet that that's how your Scorpio man feels about you. Scorpios love compliments like this because it lets them see that their partners feel the same way about them as they do their partners.
While he may not show it, he needs this validation in order to gauge how the relationship is going. For this reason, make sure to spend time letting him know that he is the guy for you. This will help keep things moving in the right direction.
"I trust you"
Similarly, a Scorpio man wants to hear that the person he loves puts her trust in him. As someone who can sometimes read too much into situations, a Scorpio sometimes needs outside validation in order to be sure that things are going alright. By complimenting him this way, you can help him to be sure that he's the right one for you.
More than likely, your Scorpio crush or partner is an important part of your life and relationship. It's your job to make him feel this way, particularly if he's going through periods of doubt or struggle. Use compliments such as this to help strengthen your relationship and take your bond to the next level.
"You make me so happy"
Remember what I said before? Scorpio men, above all else, want someone who they can build a life with together. When they enter into relationships, they are looking to start something long term. Accordingly, he'll have insecurities from time to time that perhaps you aren't looking for the same thing. You can assuage those doubts by telling him just how happy he makes you.
Just this little bit of attention can do your Scorpio crush (or partner) a world of good, strengthening his loyalty to you and improving your relationship. For this reason, make sure to give him this compliment and its variants ("I always laugh when I'm around you," "You know how to make a girl happy," etc.) often.
"You are great in bed"
What man (or woman, for that matter) doesn't like to hear this compliment? If you really want to make your Scorpio man go to Cloud 9, simply compliment his performance in the bedroom. There's nothing that would make him feel better (or more masculine) than letting him know that he can satisfy you where it counts. This type of dialogue is always an important part of any couple's love life, so you shouldn't take it for granted.
If your Scorpio man is doing great things you only dreamed about under the sheets, the best thing you can do is to let him know that. Not only will it help him feel more secure in the relationship, but it will also help him to fine tune his moves so that he is keeping you happy more often. Boost his confidence with this simple compliment!
The Bottom Line
By now, you should have a good idea of what a Scorpio man wants to hear from his lover or romantic interest. By incorporating these compliments into your daily conversation, you can boost the chances that you and your Scorpio man will have a happy and fruitful relationship.
There are many ways to tell your Scorpio guy that you love him, but the best ways are often the compliments in this guide. For this reason, give him a compliment today to make him feel as special as he really is!
These are just 5 compliments to get your Scorpio man to fall under your spell, Anna Kovach explains more about the Scorpio psyche in Scorpio Man Secrets.
Think of My Zodiac Lover like a curated collection of articles rather than a blog. You may have noticed I don't allow any ads or other distracting content on my website.
My Zodiac Lover is supported by our readers, if you buy something I recommend, I sometimes get an affiliate commission – but this doesn't affect the price you pay nor the items I suggest.
Find out more about me
Be a part of My Zodiac Lover