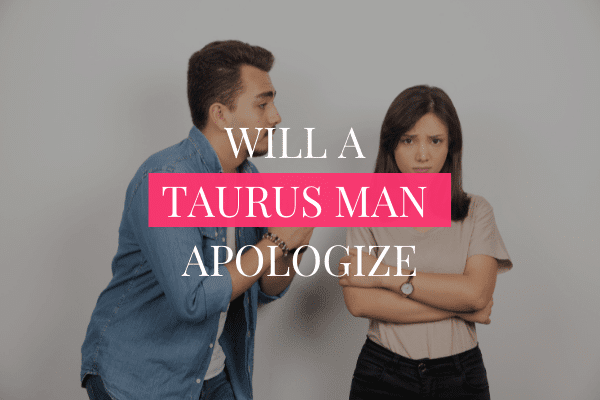 Will a Taurus Man Apologize
Will a Taurus Man Apologize
Will a Taurus man apologize? The question begs to be answered since this zodiac sign is known for following their own way! The Taurus guy may be a confusing type of male! It is often best to view things from his perspective to keep the relationship afloat. Taurus men are sensitive, loyal and reliable, and they expect the same energy from their ideal partner.
The Taurus Sign – Will He Apologize?
If you wonder if a Taurus man will apologize, wonder no longer. A Taurus man might apologize, eventually. Maybe if he feels bad? See what we did there…
To a Taurus man, it won't matter if you had a really bad fight or if your feelings are hurt because of his actions. Most of the time do not give out a genuine apology, Taurus men feel vindicated in their actions. This makes it harder for them to feel guilt. Harder but not impossible.
A Taurus man feel guilty eventually about whatever happened. If the anger has surpassed, he could bring himself to apologize. However, if he still has anger, there won't be any guilt or apologies. Allowing him space to cool off and giving him time to realize what he had done could get you that long-awaited apology. Patience is of the utmost importance in a situation like this.
Do Taurus Men Hold Grudges?
Taurus men hold grudges. They might even get mean and mess with you as payback. Taurus men often withhold affection until they feel that they are deserving of it again. A cruel way to offer some payback.
It's important to note that the grudge won't last if a Taurus man cares about you. Taurus men are sensitive and reactive. When they get upset, people born in this month may loose all their feelings at once. So once it's over, it is over. However, don't expect the grudge to be over as well. It could take months for that Taurus to be over it.
How Does a Taurus Man Apologize?
Taurus men aren't known to apologize directly, especially if they feel justified for offending you. They aren't keen on dishing out apologies as it will mean that they need to admit that they're wrong. So more times than not, you won't receive the formal "I'm sorry" that you long to hear. Taurus men will, however, do many things to express their true regret.
A Taurus man will say sorry in his way, and this is often how:
He'll apologize by saying you were both wrong: He might acknowledge his wrongdoings, but at the same time he'll excuse his behavior. This is often followed by him saying that you had been the reason that all of it started in the first place. He might even begin to play the victim and explain how you had hurt him by lashing out.
He might present you with an "I'm sorry" gift: The present isn't given to you to buy your love. Taurus men are often very materialistic. These gifts hold a lot of meaning for them. This is why they'll choose to apologize with a gift rather than use the actual words. For example, a gift after a fight shows that he cares and regrets what happened.
Read next: Will a Taurus woman come back
He could forget about it: The fight could have hurt him too, giving him the impression that he is owed an apology as well. This could hold him back from saying that he is sorry. Although he can hold a grudge for some time, he can't come close to a Scorpio. Eventually, he could feel that it was not worth holding on to anymore. When he decides this, he'll try to go back to normal and forget the fight ever happened. A Taurus man will go without ever speaking about the issue again if you'll allow it.
You might receive some special treatment: This is a big-time non-verbal apology from your Taurus man. Enjoy the extra attention. He won't tell you exactly why you're receiving all this extra love, but you'll know. He might take you out for dinner, give you extra hugs and wait on all your needs. Take this as a very sincere apology.
He could acknowledge how he made you feel: He may apologize, but only for how he had upset you. This is a male Taurus trait. It's unlikely that he'll own up to the circumstances leading to him hurting you. If you're waiting for that, prepare yourself for a lifetime of waiting. He will, however, feel true regret for hurting your feelings and making you feel bad. If he feels that he has been justified for his actions, an apology will never come. He will compromise by apologizing for hurting you instead.
Read next: How to make a Taurus female feel guilty
He might just wait until it blows over: Taurus men are extremely stubborn, especially if they're aware that they are wrong. If you aren't in the middle of an argument, they might even admit this to you. A Taurus would often find it appropriate to apologize long after the issue had been resolved. This could even take years. A Taurus man is set on masculinity and always wants to appear as the strongest. They often feel that admitting guilt will emasculate them and make them seem weaker and vulnerable. Time makes it easier for him to apologize. It takes the edge off if you have already patched things up.
If he had been called out, you'd hear "I'm sorry" from that Taurus man: If he did something like standing you up, call him out on it. He knows that he is wrong, and this will get you that apology you deserve. Don't let that Taurus walk over you. You need to stand up for yourself to push him into doing what he already knows is right this means that you need to contradict his sense of blame or what he perceives and he'll treat you how you show up for yourself . A Taurus man will know when he has left you hanging, so he won't have any problem apologizing when you bring it up.
Read next: Ways to make a Taurus woman really miss you
Star Sign – Taurus Personality
Taurus men are known for their cold shoulders. So if he gets mad, that's what you can expect. Taurus men are known for being extremely passive-aggressive, so there will be no immediate confrontation. He would rather ignore you and won't keep it a secret. He will lose all the nice he had in him, and you'll become just another person that he has to deal with. Don't keep nagging him. If he gets angrier, he'll likely blow up. His anger rises slowly. Once it reaches the top, the yelling and tantrum will begin. It is often over fast. Once the anger has been released, he'll calm right back down.
How Do Taurus Men Break Up
Taurus men will break up with you in an honest manner. He won't necessarily disappear without a trace after the two of you break up, but he might go silent for a while. A Taurus man will tell you how he feels and if he has made up his mind. If he feels the relationship isn't working and can't be saved, he'll say so. He will leave no room for negotiation. He'll either want to be with you, or he won't.
When You Should Walk Away From a Taurus Man
Taurus men are a different breed. If they no longer treat you with love, respect and patience, you don't need to stay. He may have his own reasons for his behavior, but that does not mean that you are required to put up with it. He might have gotten complacent, or perhaps he is over the relationship, either way, you don't have to stay. On the other hand, he might be waiting for you to break up with him by slowly removing himself from you.
The Perfect Partner – Accepting Responsibility
A Taurus man can regret a break-up. Whatever is between the two of you needs to be special. If you didn't do something to betray his trust, he might have some remorse. If a Taurus man can't rationalize a break-up, he may be doubtful if breaking up was the right thing to do.
Taurus men are very practical people. This means that you'll have to have a very good reason to appeal to his logic. If that Taurus feels that he had just been winded by his future plans changing, he might become nostalgic. Taurus's hate all kinds of change, including relationship change.
How do I Make a Taurus Man Regret Losing Me?
This is both easy and hard at the same time. Oftentimes when a break-up occurs, it's because the Taurus had already made up their mind that they're no longer interested in you. The easiest way to make that man regret his choice is to get yourself together and kick butt.
Showing off your achievements and flaunting your good life will definitely get that man to turn his head around. Taurus men love bossy women with ambition. Become that woman. A Taurus man loves when a woman takes care of herself. Paying attention to yourself and improving your own life will have him wondering if he had made the same mistake.
When you value yourself, a Taurus man begins to value you too. This means you should go ahead and boast about your achievements. Then, post the achievement selfies on social media and tell your friends how hard you're working towards that promotion. He'll catch wind of what's happening soon enough, and the regret might follow soon after.
Informational and Entertainment Purpose
A Taurus man might apologize. He might not. It's not always easy to tell. Taurus men are set in their ways and might choose to wait until you have forgotten about the fight to apologize – this stubborn sign feels guilty, but may not show it. They might never apologize. It all depends on the situation and what the argument was about.
Think of My Zodiac Lover like a curated collection of articles rather than a blog. You may have noticed I don't allow any ads or other distracting content on my website.
My Zodiac Lover is supported by our readers, if you buy something I recommend, I sometimes get an affiliate commission – but this doesn't affect the price you pay nor the items I suggest.
Find out more about me
Be a part of My Zodiac Lover
Join my YouTube channel dedicated to helping people find their perfect match.
I'm here to make your life easier by providing you with all the tools and resources you need to discover your perfect partner, whether it be through horoscopes or compatibility tests.
You can also get access to our exclusive content that will help guide you on your journey of finding love! What are you waiting for? Click here to subscribe.